Martin Luther King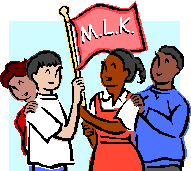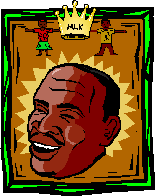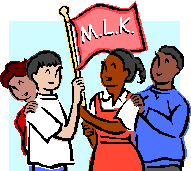 This is a unit resource about Martin Luther King.
Below you will find some books and sites to help you
in putting a complete unit study of Martin Luther King together.
Feel free to use all you want and I hope that
you enjoy the resources!


Martin Luther King was a civil rights leader and a Baptist minister.
He believed all people had the right to freedom and equality.
Martin Luther King is well-known for his "I have a dream"
speech that he delivered in the summer of 1963 in
Washington, D.C.
To this day, we can still remember the powerful words that
he spoke. His dream was not unrealistic and we can see
the result of it daily around us.
He was born in Atlanta, Georgia on January 15, 1929.
His father was the pastor of Ebenezer Baptist Church and
his mother was the church choir director.
As a youngster, Martin found out that white people and
black people were not treated equally.
But his parents thought him to treat everyone the same.
While in college, Martin studied about Mohandas Gandhi, who
led the people of India to change the laws in his country in
a peaceful and non-violent way.
For his struggle against racial oppression, Martin Luther King
was awarded the Nobel Peace Price in 1964.
In 1968, at the age of 39, Martin Luther King was assassinated
by James Earl Ray, on the balcony of Martin's hotel.
Martin Luther King knew that he could made a difference.
And he did!
His death was that of a leader but not the death of a dream!



A History of African American People by Salamander Book
1001 Things Everyone Should Know About American
History by John Garraty
Who's Who in Christian History by J.D. Douglass
Famous People Encyclopedia by Sherrill Flora
The Children's Book of America by William Bennett
Let's Get Ready for Martin Luther King Jr. Day by Lloyd Douglas
Meet Martin Luther King, Jr. by Johnny Ray Moore
A Picture Book of Martin Luther King, Jr. by David Adler
Martin's Big Words: The Life of Dr. Martin Luther
King, Jr. by Doreen Rappaport
Happy Birthday, Martin Luther King by Jean Marzollo
If you Lived at the Time of Martin Luther
King by Ellen Levine
My Brother Martin: A Sister Remembers Growing Up with
the Rev. Dr. Martin Luther King, Jr. by Christine Farris
What is Martin Luther King, Jr. Day?
by Margaret Friskey
Martin Luther King, Jr.: Young Man With a
Dream by Al Fiorentino
Martin Luther King, Jr. Day by Dana Rau
Martin Luther King by Verna Wilkins
Martin Luther King, Jr. Day by Robin Nelson
Martin Luther King, Jr. Day by Helen Frost
Martin Luther King, Jr. by Mary Winget
Let's Read about Martin Luther King, Jr, by Courtney Baker
Dr. Martin Luther King, Jr.: A Story for Children
by Margurite Thompson
The Assassination of Martin Luther King, Jr. by R. Conrad Stein
I Have a Dream: The Story of Martin Luther King
by Margaret Davidson
Martin Luther King, Jr. by Peter J. Ling
Thank You, Dr. Martin Luther King, Jr.! by Eleanora Tate
A Lesson for Martin Luther King Jr. by Rodney S. Pate



Martin Luther King Unit studies
Martin Luther King Thematic studies
Assassination of Martin Luther King
Free Martin Luther King Lesson Plans
MLK Celebrations in the Classroom
LIFE Martin Luther King Pictures
The Martin Luther King Assassination
Links for Teachers and Students










True Light Academy.
Copyright © 2004-2006 by Lara. All rights reserved.
Revised: 02/23/2006