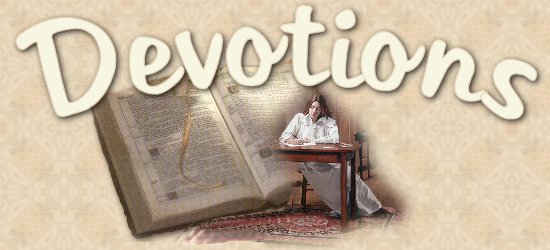 For devotion, our children have a time of prayer together. They make
mention of their prayer requests and needs. They also recite the Pledge
of Allegiance, the Pledge to the Bible and the Pledge to the Christian Flag.
Daily, they read a chapter from the Bible aloud and do
copy work by copying a few bible verses.

Audio tapes and books are sometimes part of devotion. We enjoy listening
to the Adventures in Odyssey and Your Story Hour tapes/CDs.
When we travel, we take them along and listen to them in the car.



We are faithful to our church and enjoy seeing the children being
involved in the different activities that are being offered to them.

We want them to love the Lord. Not just know
about Jesus but know who Jesus is!!

We live in a time when it's so important to make Jesus Christ
a priority in our lives and the lives of our children.



Our two oldest children have received the Holy Ghost and been
baptized in the wonderful Name of Jesus Christ! Our youngest daughter
is the next one in line to receive the same experience in Jesus.

We strive to be good role models for our children. We want them
to make "responsible" and "godly" choices and decisions.

We pray that they learn to make good moral decisions that will be
pleasing to the Lord! We are not just "sheltering" them from some
of the evils in the world. But we are letting them know that all
that's out there is not always good and right.

Through the scriptures and the talks that we have with them...we
pray that something good will come out of it all! Jesus is able!!!


To find some links of activity sheets relating to the Bible and links...
Have a good and godly day!

In His Service,
Lara...:-)





True Light Academy.
Copyright © 2002-2006 by Lara. All rights reserved.
Revised: 02/18/2006